Published on Stuff.co.nz, 17th October 2021
She's a Killer by Kirsten McDougall
REVIEW: It's the near future in She's a Killer's Aotearoa where the eerie economic and climatic brokenness feels a little too familiar here in Auckland during a Level 4 lockdown.
Similarly broken, for reasons McDougall deliciously drip-feeds, the prickly first-person protagonist, Alice (cut from similar cloth as Ottessa Moshfegh's Eileen and Gail Honeyman's Eleanor Oliphant) is one point off being a genius; a state of almost that impacts her entire life.
It's indicative of the trouble ahead when Alice's acerbic inner voice, slash imaginary friend, Simp, arrives back in her life. Oh, and Alice may or may not be a sociopath (more on that soon).
This is McDougall's third book. Her first, The Invisible Rider (VUP 2012), is a series of interconnected short stories with a similar spirit to Olive Kitteridge. This was followed by an excellent gothic romance novella, Tess (VUP 2017).
She's been well-awarded and this year took out the top gong at the Sunday Star Times Short Story Competition.
Having read McDougall's three books over a couple of days, the line from one to the next has become clear. In each, McDougall deftly handles her material, but She's a Killer demonstrates an advanced tightness of prose, plot, tension and pacing that flings the reader forward, proving McDougall to be a dextrous and talented writer who has really hit her stride.
Her story structure is excellent, with the mid-point of Alice's mother finally entering the room occurring at the perfect spot. All three books are concerned with off-kilter characters who consider life to be rather perplexing. But the thread that most connects each work is the examination of the gaps between – between people; reality and perception; knowledge and ignorance; wealth and poverty, and complacency and action. And what makes some gaps so cavernous that the other side is no longer comprehendible or even seen.
For She's a Killer's Alice, her Wellington life and the people in it, are confusing and difficult. The water plan she can afford lets her eke out one litre per day and a beer costs $60. She can't understand why her best friend Amy is shutting her out of her increasingly gilded life–especially when Alice saved Amy from herself all those years ago. Do people stay the same or do they change?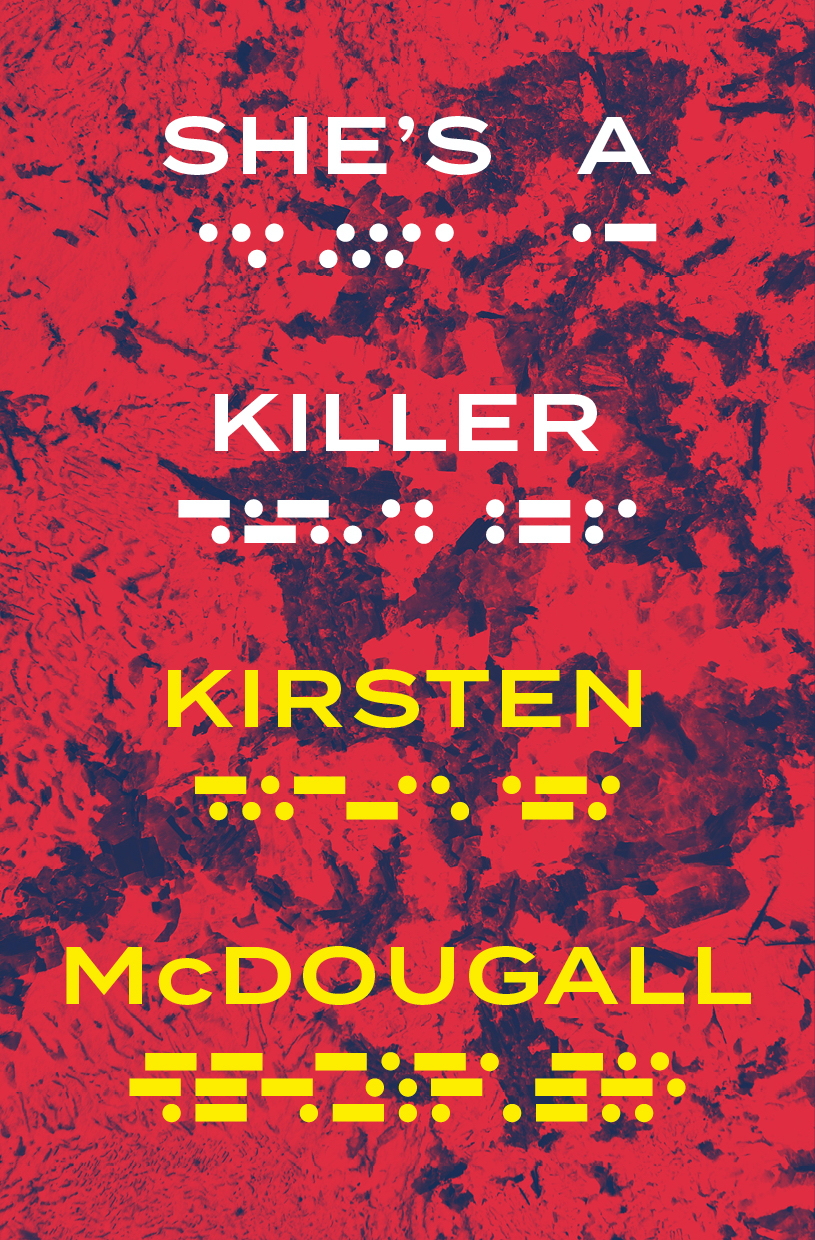 She's a Killer by Wellington writer Kirsten McDougall
Alice communicates with her mother, who lives upstairs, by Morse code. Now, the 'wealthugees' are arriving in New Zealand by the planeload, using their money and influence to buy up land and create ring-fenced estates and bunkers, while Alice's only source of hope is the tiny plant growing from a crack in her kitchen bench.
And then in walks Pablo–a hot wealthugee who Alice is sure wants to date her–and his 15-year-old daughter, Erika. Erika of the most excellent eye makeup and certified genius intelligence. But of course, neither Erika nor Pablo are who they appear to be and that is where the story evolves into a compelling race against time, where the blurry line between good and evil is erased and redrawn.
The balance of nature versus nurture in complex characters like Alice can be tricky to get right. Midway through She's a Killer, I questioned the feasibility of her personality being due only to nature and was searching for a more-developed backstory for her manipulative indifference and unfulfilled potential. Fortunately, although perhaps a beat or two to late, McDougall delivered.
Despite sounding rather serious, She's a Killer is damn funny. In less-skilled hands, the humour and stereotypes (such as her ex-boyfriend's cringey career as a social influencer and Alice's mother's obsession with Antiques Roadshow) might bomb. But McDougall nails the tone and honours readers' intelligence. From the cutting one-liners – "I didn't care for a boyfriend, but I did know how to get laid" – the hilarious handling of a Violent Femmes song lyric, and the anorexic runner suffering an existential crisis, McDougall had me in stitches.
There are moments when Alice allows herself to feel and the gap between her and life slides closer. This is where the magic happens, where McDougall's writing grabs you by the heart and wrings it out. There's one moment, just before something dreadful happens, that Alice observes her stricken friend Amy and, all at once, perceiving herself in all her flawed fullness. McDougall writes, "…because to perceive what it is that you know is not a small thing. It is a painful thing, which is why most people avoid it."
Aesthetically, it's a very nice book to hold, with zingy cover artwork designed by Todd Atticus and an elegant choice of paper stock. Bravo, Kirsten McDougall and Victoria University Press.
She's a Killer by Kirsten McDougall (Victoria University Press, $35). This review was first published on Kete and is reproduced with kind permission.
https://www.stuff.co.nz/entertainment/books/300431589/shes-a-killer-by-kirsten-mcdougall